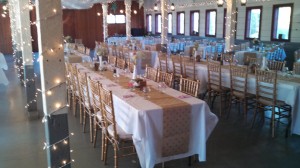 Hold your next event here.
The restored historic dairy barn was built in 1920 and now houses a finished reception hall which can be used for your next event. The "barn" can be decorated to suit your event whether it be a wedding ceremony, reception, reunion or company party. Contact Scappoose Creek Inn today to learn more, or to schedule your event. When you rent the hall, you also have access to the surrounding grounds if you want your ceremony outside by the pond area or at the gazebo.
2018 Price List for Rentals:
1 day rental of Event Hall & Grounds $900.00
2 day rental of Event Hall & Grounds $1400.00
Discounted Rates: Monday-Thursday for a 5 hour block between 10:00am and 10:00pm call for discounted pricing.
Discounted rates for Memorial Services 7 days a week.
Maximum occupancy is 150.
Rental includes chairs and rectangular tables.
A 50% non-refundable deposit is required to hold your date.
Bar service can be provided. Our license allows us to serve beer and wine.
Please call to make an appointment for a tour and more information.
Winter Venue/Wedding Party Package 2017/2018
Scappoose Creek Inn is Now Offering an Exclusive Venue/Wedding Package for You, Your Family & Closest Friends
2 Day Event Hall Rental, Cottage & Main House 6 rooms – 2 Nights, Rehearsal Dinner for 20, Sandwich Platter for Bridal Party, Breakfast – Morning 1, Brunch – Morning 2 for 20 persons, Champagne/Sparkling Cider in Rooms Upon Arrival, Bar Service, Late Check Out ($4,600 value)
All for Just $4,200
(valid for wedding dates 11.1.17 through 3.31.18, excludes holidays and holiday weekends)
Call us for details 503-543-2740
The restaurant at Scappoose Creek Inn is available for rehearsal dinners, bridal and baby showers, etc. for groups up to 40.
Caterers
Sugars BBQ & Catering 503-957-9251
SunShine Pizza & Catering 503-397-3211
Wild Currant Catering 503-366-9099
Mark's On The Channel 503-543-8765
Ixtapa Restaurant 503-543-3017
D.J.s
Bartholomew Productions Bart Hafeman 503-543-7664
Ron Ridenhour – Atmosphere Creative 503-438-0439
Aardvark DJ Services B Larry Sherrill 503-515-2921
PM – Perfect Memory Disc Jockey Service 503-830-6025
The Party Connection 503-516-9229
All Wright Music & Events 503-635-1115
Bands
Conroy-Debrie 503-284-5304
Cedro Willie
Bakeries
Brown Butter Bakery 503-313-4022
Houlton Bakery 503-366-2648
Photographers
Stellar Photography 503-396-0108
Holland Studios 503-238-5957
Jeffrey D. Baker 503-543-4109
Benjamin Boyd Photography 503-753-8957
Officiants
Rev. Cathy Hume 503-957-9942
Rev. Rick Phillips 503-659-4417
Rev. Robert Griffen 503-421-3213
Florists
Country Florals 503-543-7395
Flowers 4U 503-366-5301
Flora Designs 971-221-3930
Wedding Attire
Dianna's Formal Affair 503-543-0291
Wedding Coordinators
Angel Kavenaugh 360-590-4207
Rentals
Don's Rentals 503-397-0585
On Site Childcare
Creative Childcare Solutions 503-518-2274
When using any of the above vendors, please tell them that you were referred to them by Scappoose Creek Inn.