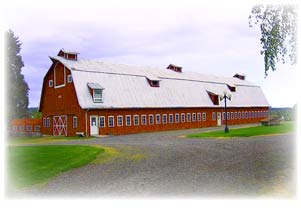 From the days of providing milk during the Depression to the still in the barn, The Scappoose Creek Inn's barn is immersed in folklore and history… surrounded so tightly that it is difficult to establish where history ends and myth begins!
Scappoose Creek Inn's early 1900's dairy barn and farmhouses were originally constructed in the days of clear cedar, tongue and groove, and square nails. Once a total of 400 acres and home to the Scappoose Creek Dairy, it is now situated on the remaining four acres with the major buildings still intact. The Inn is housed in two beautifully restored farmhouses with a tree lined drive. The beauty and tranquility provides an oasis for any romantic or personal retreat.
During Prohibition, the barn was the setting for one of the largest "busts" for its massive still. Producing and selling "bootleg" liquor was a profitable business at that time. It is now an event hall that can host up to 150 people for ceremonies, receptions, reunions, or company functions.
During the Depression, Scappoose Creek Dairy struggled to stay afloat – family members tell us that the only money they made was the return deposit on the milk bottles. Yet they continued to supply milk to the poor families of Columbia County.
Eventually the dairy failed and was confiscated by the IRS. It was purchased by a local entrepreneur who later converted it into a Bed and Breakfast.
The farmhouse and surrounding buildings underwent a two year restoration starting in 1994. The Bed and Breakfast opened for business in 1996. It is currently housed in two fully restored farmhouses, each offering it's own unique charm.